Innovation Missions
for the decade.
For you. For each and everyone.
We all too often wonder if we can do something to avoid climate change. It is hard to think that one single person, or their actions, can directly have an impact on such a complex global problem. And yet, experiences across the globe show us that when diverse initiatives are aligned and articulated, then it is possible. And that not everything depends on major summits, unexpected discoveries or people with great ideas.
In 2020, València decided to be involved in Missions 2030, an innovation and governance system seeking to improve the life of the city and of the people who live there. And its first mission will be the Climate Mission and will aim to make the city carbon neutral over the coming decade.
València 2030 Climate Mission
Making Valencia a climate neutral city by 2030, and doing so by (and for) its citizens, within the context of the European mission to reach 100 climate neutral European cities by 2030.
The Valencia 2030 Climate Mission is Valencia's contribution to the EU reducing climate emissions by 55% by 2030 and becoming climate neutral by 2050.
The main benefits associated with the decarbonisation of Valencia include the following:
Better health for people
Fewer traffic jams and less noise
Less pollution
Access to more natural areas
Better habits
Greater innovation
We aspire to make Valencia a healthier, more sustainable, more sharing, more prosperous and, in short, more liveable and desirable city for people.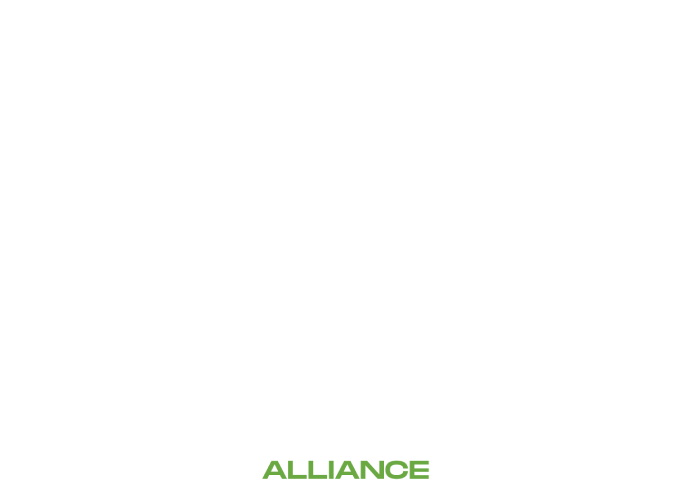 Quintulple helix framework of the ecosystem






The aim of the Mission is to learn how to implement a systemic transformation in the city of Valencia that will allow us to be able to absorb 100% of its CO2 emissions, while working on various measures to reduce them by 2030.
This Mission has included inputs from scientists, innovators, citizens, universities, the media and the general public so they can be part of the associated transformation process.
Through this Mission we will:

Make progress on commitments to reduce CO2 emissions made in the Covenant of Mayors for Climate and Energy.
Lower the Temperature of the Planet
Advance with the commitments made at the Paris Climate Summit where cities reaffirmed the ambition to contain the rise in global temperature within the target of 1.5 degrees Celsius.

Promote Sustainable Development
Advance towards the commitments and targets set out in the United Nations Sustainable Development Goals.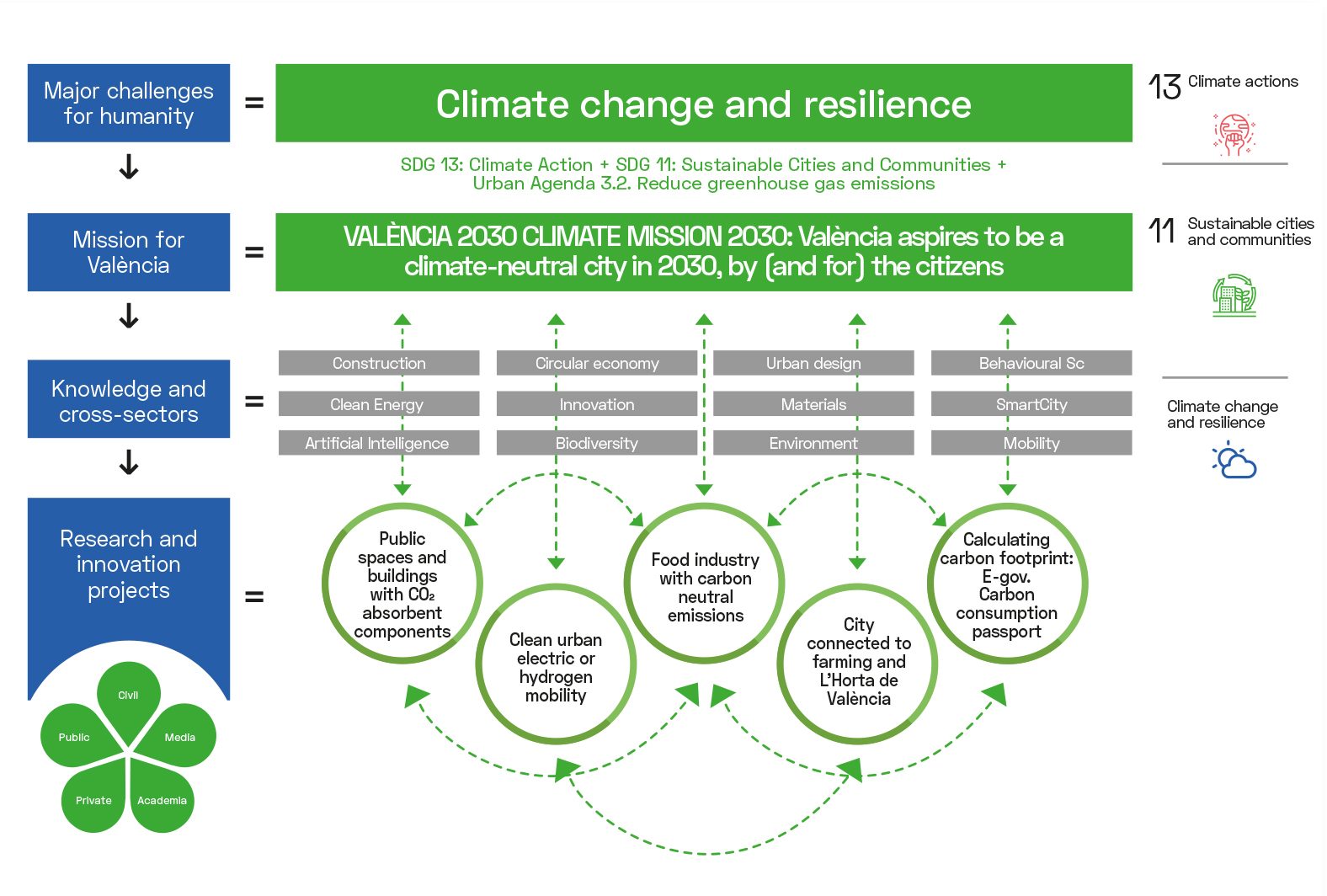 The European Union has approved its first Mission:
Valencia aspires to be one of the 100 climate-neutral European cities. The City Council thus aims to make Valencia an innovation hub that receives European advice and shares its experiences relating to sustainability with other cities in areas including mobility, tourism and energy.
Climate neutrality. In 2020, the European Commission and Parliament defined five missions to guide the EU's Horizon Europe research and innovation programme for 2021-2027. One of them, the 100 climate-neutral cities in Europe by 2030 mission, which is by and for the people, aims to make 100 European cities climate neutral by 2030. This mission aims to support the transformation of these cities to accelerate compliance with the Paris Agreement and the 2030 Agenda. It also aims to become both a catalyst for the European Green Pact and an example demonstrating that climate neutrality is possible by 2050.
Warming is increasing. The latest report by the Intergovernmental Panel on Climate Change (IPCC) published in August warns that, at the global level, not enough is being done and action is not being taken fast enough. It states: "If greenhouse gas emissions are not reduced immediately, rapidly and on a large scale, limiting warming to around 1.5 °C (…) will be an unattainable goal". The most likely scenario is one that sees global warming in a range of 2 °C to 4.5 °C. With heating of 1.5 °C plus, extreme heat events will be four times more likely. At 2 °C, critical health thresholds will be reached. The challenge, therefore, is not only for cities to become climate neutral, but for them to do this as soon as possible.
City project. Valencia became one of the first cities on the continent to make the European climate mission its own when the city council gave its approval at a plenary session in February 2021 with broad support from across the political spectrum, both from the government and the opposition (31 councillors out of 33). In addition, it has moved forward with its Urban Strategy 2030, which merges the Urban Agenda and the Innovation Missions into a single framework for action, as two sides of the same coin to ensure the desired impact.
Energy communities. An initiative that aims to transform the city by deploying a single network to activate the change in energy models as a reference point in each neighbourhood.
Neutral districts. It aims to achieve climate neutrality in at least three districts by 2030 although the city will be attentive to the higher European ambitions in its cities climate mission. It will include energy and environmental transformation initiatives.
City of squares, a city for pedestrians. Reclaiming spaces for people by adapting the development of various streets in Valencia to establish pedestrian priority areas (squares, streets, pavements and crossings).
Rewilding. Green infrastructure project covering all neighbourhoods. Deploying ecosystem services (biodiversity and connectivity, thermal regulation, wellbeing and health, etc.) to offer a green infrastructure designed with the criteria and principles of nature-based solutions to address the challenges posed by climate change.
Sustainable mobility. Electrification of public transport, creation of low emission zones, reclaiming space for people and a commitment to cycling.
Zero emissions tourism. Monitoring and certifying the emissions produced by urban tourism throughout the activity cycle to achieve a neutral carbon footprint by 2025.
Benefits. If Valencia joins this network, it will be able to receive tailor-made technical, policy and financial assistance and advice from the EU Mission Platform. It will also be able to co-create, sign and implement a City Climate Contract that brings together the commitments of the EU, national and regional governments with Valencia's mission. While also being able to obtain the 'Mission City' label to make Valencia a more attractive city for private investment, European funding opportunities and as a location for new companies and skilled workers. It will become a European hub for innovation and experimentation in the field of climate transition and launch a range of flagship projects.
Public and private partnerships. The City Council will sign institutional declarations with the national government and the Generalitat to promote and collaborate in the Climate Mission. More than 50 entities, companies, and organisations are also expected to join
They are already Missions València 2030 Ambassadors: